"code"
Regular price
$99.99 USD
Sale price
$99.99 USD
Unit price
per
Sale
Sold out
By purchasing a medallion and/or using the site, you agree to
these
Terms of Use.
Getting Started

When you receive the medallion, simply scan it and follow the instructions. You will be able to easily create an online profile to honor and commemorate the lives of those dear to you.

You can create up to as many individual Turning Hearts ancestor profiles for yourself using the same email address, facebook account or gmail account.

Each account must be made one at a time, this is done by clicking "Create an account" and going through the registration process for each personal account.

A medallion can be purchased anytime through the profile development and you can also order a medallion without having an account at Turning Hearts.
What is included in the online profile?

All Profiles include:

A Biography section
A Photo gallery
A Video gallery for attaching YouTube videos
An Obituary Link
Gravesite information (Plot number, Cemetery name, etc.)
Plot coordinates with walking directions to the grave
A Links section for adding additional links to websites
An interactive Tributes section for other people to post text, images and videos onto the Profile
A Follow button for getting relevant updates on Profiles of interest to you
How much does it cost?

Each aluminum medallion is $99.99 each. There are no additional costs aside from the medallion. Your online profile is free and there are no monthly fees.
Materials

Premium Grade Anodized aluminum
Shipping & Returns

FREE SHIPPING ON ALL ORDERS
Share
View full details
There is magic in the stories we share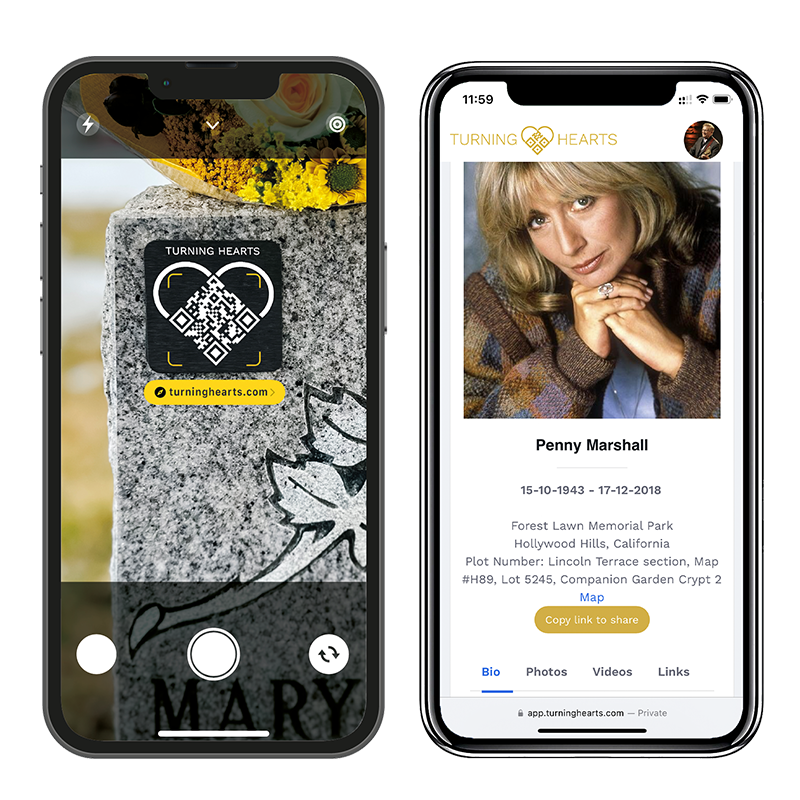 A Better Way to Remember
---
Create a profile for your loved one and place a Turning Hearts Medallion on their headstone or place of remembrance.
Simply scan the Medallion to pay tribute and let their legacy live on.
Learning from History
Here are some publicly accessible profiles that you can explore to get a better feel for our platform. Click below to get to know more about these people.